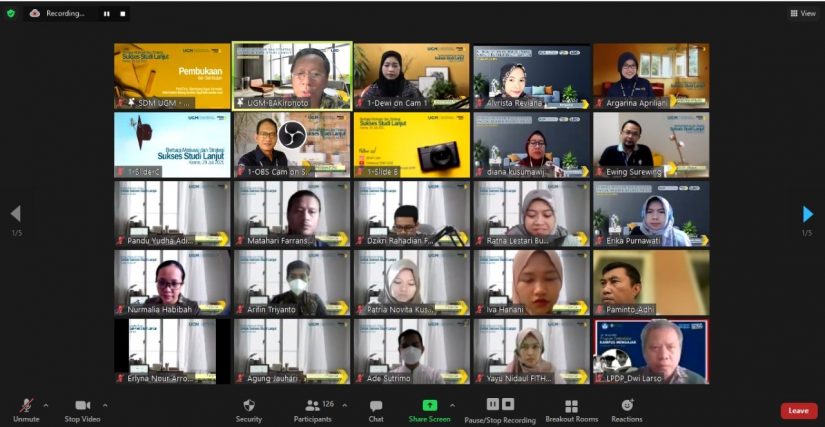 Many factors can affect the effectiveness of learning in the classroom, one of which is the ability and skills of lecturers in delivering materials and expressing ideas verbally. But in reality, many lecturers, especially new lecturers, have not mastered the public speaking technique, even when lecturers should possess this skill as a fundamental ability. Learning materials proficiency supported by public speaking skills will increase the confidence of lecturers and make the ideas put forward will be on target. The skills and ability to speak in public itself are known as public speaking skills.
Public speaking skills also need to be supported by other skills, for instance, composing a good presentation. Presentations are visual aids that help the speaker or lecturer in the presentation. Visualizations of these messages can be text, images, videos, and photos. Visualization of ideas or messages delivers verbal communication and increases the listeners' imagination. Given the importance of improving the ability to speak in public and make good presentations, the Directorate of Human Resources organized a Public Speaking Webinar and Presentation Techniques for Lecturers. The webinar was held online on July 30, 2021, through the Zoom Meeting, with 170 participants attending the event.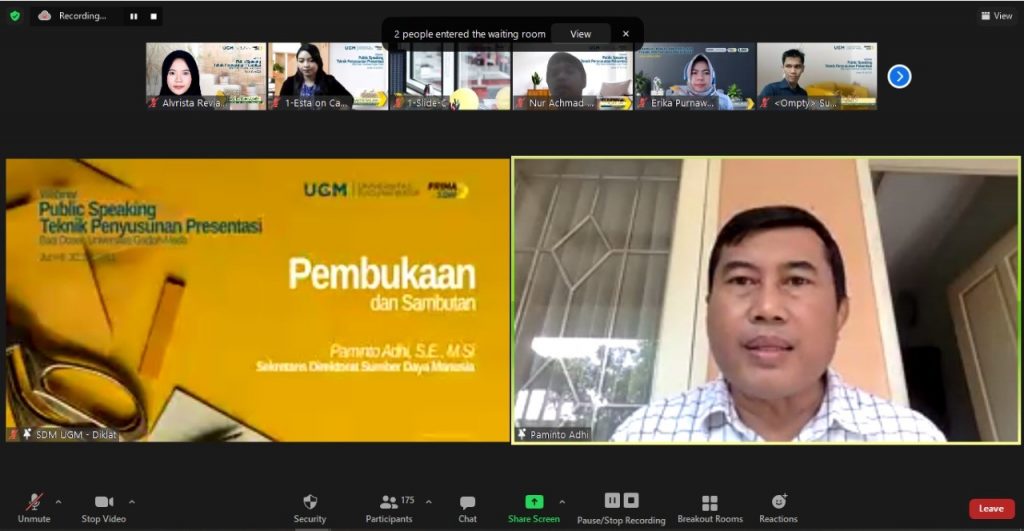 Opening Webinar by Paminto Adhi, S.E., M.M.
The Secretary of the Directorate of Human Resources of Gadjah Mada University (DSDM UGM) Paminto Adhi, S.E., M.M., opened the Public Speaking and Presentation Techniques webinar.  At the opening, he said that DSDM UGM continues to be committed to running training programs. He also presented the use of Public Speaking webinars for participants of UGM Young Lecturers. This Public Speaking Webinar is one of the continuations of Innovative Learning Ecosystem Training Implementation (EPI) in 2019 and 2020.
Presentation by Dedy Permadi, S.I.P., M.A., Ph.D.
Special Staff of the Minister of Digital Policy and Human Resources/ Spokesperson of the Ministry of Communication and Information, Dedy Permadi, S.I.P., M.A., Ph.D., is a Lecturer at the Faculty of Social and Political Sciences UGM. On the occasion of this webinar, Dedy Permadi presented the topic of Public Speaking. Lecturers need to position themselves as listeners or students. Lecturers also have to find out what students want for speakers or lecturers in the delivery of lessons. He also conveyed the principal keys in the implementation of Public Speaking. The benefits of Storytelling, visuals, and technology in public speaking are also considered predominant, thus increasing the attachment between Lecturers and Students. The speaker closes with a discussion on preparing for Public Speaking tips. Several webinar participants have proposed conversations about the implementation of Public Speaking, especially in online learning during the Covid-19 Pandemic.
| | |
| --- | --- |
| | |
Presentation by I Made Andi Arsana, S.T., M.E., Ph.D
The next topic was presented by I Made Andi Arsana, S.T., M.E., Ph.D.  I Made Andi Arsana is one of the Lecturers of the Faculty of Engineering. He is also an International Presentation Practitioner who has been a speaker at prestigious events such as TEDx and Falling Walls. In this webinar, Andi Arsana presented the topic of Techniques and Practices of Composing Presentations. He said that putting together a presentation can start with groundbreaking or shocking statements. On this occasion, Andi Arsana stated that public speaking is the ability to convey a topic that can then be easily understood and followed by the listener. Strategies in public speaking such as storytelling and interaction are indispensable for speakers in carrying out presentation techniques. The session closes with interactive discussions.
At the end of the webinar, some participants gave testimonials. Andika Wicaksono Putro, S.T.P., M.Sc., is a lecturer at the Faculty of Agricultural Technology UGM. He stated, "Both speakers are impressive! Good Job! I watched it from start to finish with great enthusiasm". In addition, Diah Fitria Widhiningsih, S.P., M.Sc., lecturer of the Faculty of Agriculture, stated that public speaking training is invaluable for lecturers. She hopes that "there will be training from the Directorate of Human Resources every year."
(UGM/Rista)