The Directorate of Human Resources at Universitas Gadjah Mada (DSDM-UGM) held a webinar series on Maintaining Self and Family Mental Health divided into 3 topics: Topic 1. Work-Family Balance with Prof. Dr. Tina Afiatin, M.Sc., Psychologist (April 18, 2023), Topic 2: Maintaining Yourself and Family's Mental Health with Diana Setiyawati, S.Psi., MHSc., Ph.D., Psychologist, (May 3, 2023), and Topic 3: Sexual Harassment by Sri Wiyanti Eddyono, S.H., LL.M.(HR)., Ph.D. (May 12, 2023).
The webinar series on Work-Family Balance has been conducted online via Zoom, starting with the Director of Human Resources opening, Suadi, S.Pi., M.Agr.Sc., Ph.D. He emphasized that the purpose of holding this webinar is to give insight to Lecturers/Supporting Staff to maintain harmonious family relations better. Cooperative family relationships will create a healthy and quality work environment.
Webinar participants are lecturers/Supporting Staff (tendik) within the Faculty/School of UGM. They are mandatory for new Lecturers and Supporting Staff who have attended UGM Basic Training 2023. Other interested Lecturers and Supporting Staff can also join the webinar. The total number of participants in this activity was 668 people.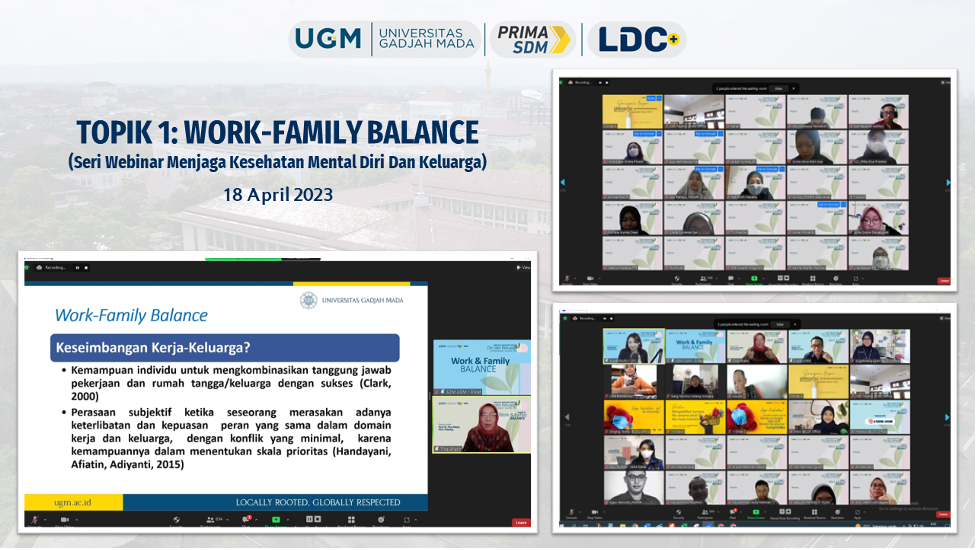 In the webinar on Work-Family Balance, Prof. Dr. Tina Afiatin conveyed the importance of a balance between work and family. With this balance, there will be harmony in life, both in the work environment and the family. Participants in this webinar were enthusiastic and interactive in the question and answer session. Hopefully, on topics 2 and 3, participants will remain excited and comprehend the importance of Self and Family Mental Health.
Participants were asked to complete a questionnaire at the end of the Work-Family Balance webinar. They immediately received a webinar certificate that was sent via their respective e-mails. The questionnaire showed the excellent impression conveyed by the participants; among others, implementation is perfect. Thus, the implementation webinar Work-Family Balance has been going smoothly. (UGM/Dewi/Translated by Rista).