Lecturers' ability to teach and communicate ideas effectively in class can be influenced by various factors, including their skills in public speaking. Therefore, many new lecturers need this essential skill. Developing mastery of teaching materials and public speaking can increase the confidence of lecturers and ensure their ideas are conveyed effectively. Public speaking is recognized as an essential ability that lecturers must possess because public speaking is a type of verbal communication that involves a large group of people about a particular topic. The aim is to persuade, educate, inform, or explain something to specific individuals in certain settings. Therefore, in this case, a lecturer needs practical speaking skills, including attitudes and techniques that are qualified to convey messages, influence people, and motivate them. In this digital era, where communication is done chiefly online, different communication techniques are needed, such as choice of words, intonation, facial expressions, and gestures. Good presentation skills are also required, including visual aids such as slides with text, images, videos, and photos. Visualization helps convey ideas and enhances verbal communication with the audience's imagination.
The Directorate of Human Resources at Universitas Gadjah Mada (DSDM UGM) is aware of the need for improved skills lecturers, especially in public speaking and presentation techniques. One hundred eighty lecturers from various faculties and schools within UGM were invited to participate in a one-day training session to take part in the training Public Speaking and Presentation Preparation Techniques. The training was conducted online on June 9, 2023, using the Zoom Meeting platform.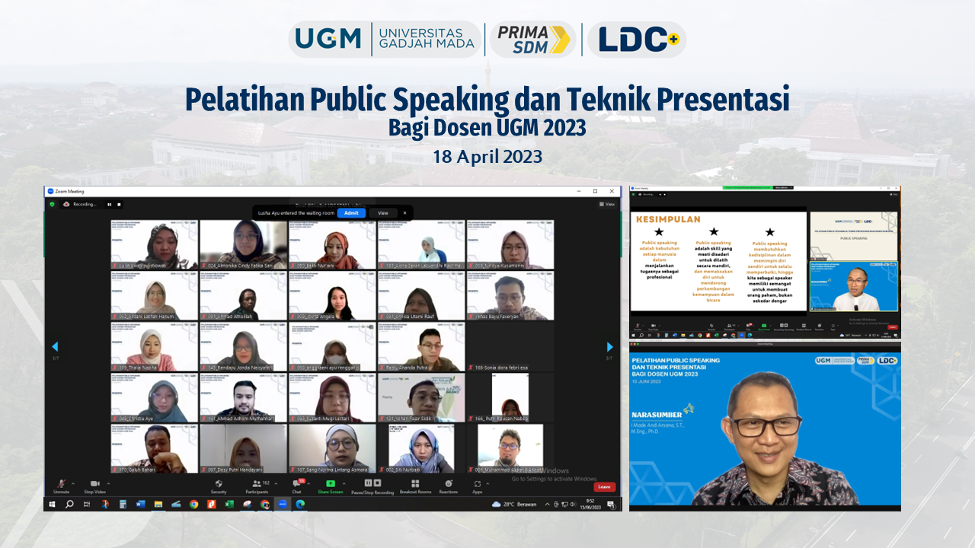 UGM Director of Human Resources, Suadi, S.Pi., M.Agr.Sc., Ph.D., opened the training by emphasizing the importance of public speaking for lecturers, especially those just starting their careers. After the speech, the participants were allowed to assess their knowledge through a pre-test. The delivery of the first presentation by M. Riza Perdana Kusuma discussed the importance of material public speaking for lecturers, divided into the art of public speaking, type of public speaking, developing abilities of public speaking, voice intonation, and non-verbal communication. Besides delivering interactive material, Riza also asked the participants to practice direct public speaking. The session ended with an interesting question and answer session, which was greeted with great enthusiasm from the participants. In addition, I Made Andi Arsana, S.T., M.Eng., Ph.D., provided valuable insights on presentation preparation techniques and tips on making attractive presentations. A post-test was held to assess the participant's progress in the closing session.
At the end of the training, several participants gave testimonials. One expressed their appreciation for the usefulness of the training program Public Speaking, especially for young lecturers, and suggested adding more training hours to make exciting and interactive presentations. In addition, other participants also shared positive feedback. They stated that the training topics were beneficial and enlightening. The skills and knowledge gained from the training will significantly assist them in delivering teaching and conveying information to students effectively. The participants believed implementing the Public Speaking training was very effective and impactful. (HR/Rista)